Diana (Didi) Carson
Founder and Managing Director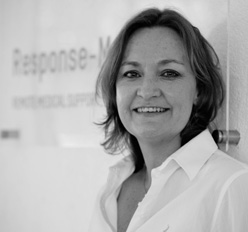 A British National, raised in Africa and resident in East Africa for ten years, Didi has successfully implemented medical services projects in the most remote corners of Kenya, Ethiopia, Madagascar, Tanzania and South Sudan. She has a reputation for delivering quality services in challenging environments, on time and within budget.
Prior to founding Response-Med, Didi managed the medical service division of Ardan Risk and Support Services, catering for clients from a cross section of industries in East and Sub-Saharan Africa.  Didi has a BA Social Sciences degree from the University of Port Elizabeth as well as post graduate diploma in Marketing Management from the Institute of Marketing Management (South Africa).
"Our intention is to be the medical service provider of choice in the region. Our customer-centric approach ensures our clients receive clinically sound and professional treatment, always with a personal touch."
Back to About us page